Mythic Quest Season 2: Release Date, Cast, Plot and more!
Mythic Quest is a comedy television series that has been made for Apple TV+. The first season made its premiere on 7th February 2020 and it was renewed for a second season on 18th January 2020 before the premiere of Season 1. The lead role is being played by Rob McElhenney. The first season had nine episodes and a special episode named 'Mythic Quest : Quarantine' was also released a few months later on 22nd May 2020. The series has an approval rating of 89% on Rotten Tomatoes and a score of 73 out of 100 on Metacritic.
The series has also received positive reviews from audience and has been appreciated for the thoughtful and sincere comedic elements. Well, after a successful first season, viewers have been eagerly waiting for Season 2. The show revolves around a video game studio that creates the popular game called Mythic Quest.
Release Date of Mythic Quest Season 2
The first season of Mythic Quest : Raven's Banquet had nine episodes with a running time of 24 to 35 minutes each. The show was renewed for Season 2 before the release of Season 1 but the production was delayed because of Covid-19 pandemic and also, a large number of team members also tested positive for Covid-19. The filming of the second season resumed in the second half of December 2020 and now, the second season will make its premiere on 7th May 2021.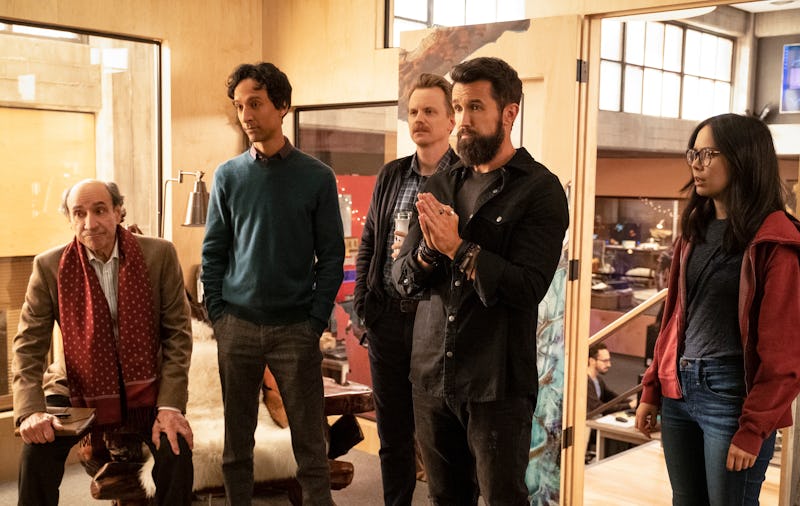 Cast of Mythic Quest Season 2
The lead role of creative director Ian Grimm is being played by Rob McElhenney. Along with him, Charlotte Nicdao plays the role of Poppy Li, a lead engineer who is promoted as co-creative director. The roles of Rachel and Dana is being played by Ashly Burch and Imani Hakim and both of them are game testers. Other cast members include Jessie Ennis, David Hornsby, Danny Pudi and F. Murray Abraham. The recurring cast members include Elisha Henig, Aparna Nancherla, Caitlin McGee, John DiMaggio, Naomi Ekperigin and Craig Mazin.
Plot of Mythic Quest Season 2
The second season has been titled Mythic Quest : Titan's Rift. Reports say that the change in role of Poppy would be a launching off point in Season 2. The new move will need Poppy for working in sync with Ian which is a challenge looking at the ego of both the characters. Making them in charge of the project will mean that decisions would not be easy to make.